Conklin All-American Rosewood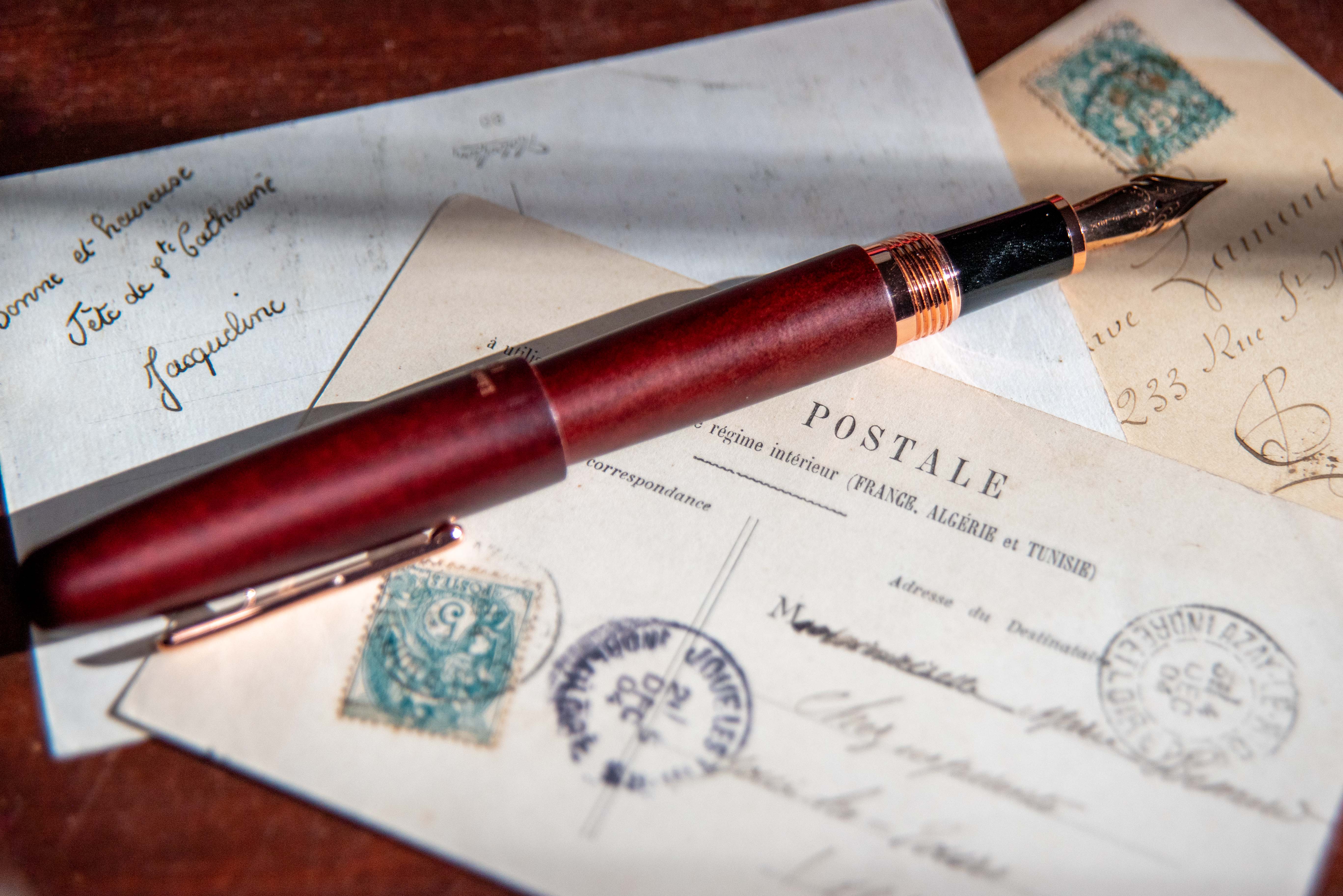 I've wanted to turn my own pens on the lathe for a while, I even have a few blanks. But I've been stuck at the "screw thread" portion of the process. I got this pen to see how a metal casing could potentially be used. And it seems that the pen is a very thin tube of wood glued to a metal pen case. A very interesting construction. It's also through this pen that I realised if the grip is wood, like on my many dip nib holders, it will get stained with ink pretty quickly. So metal might be the way to go there.
But I ended up really liking this pen. It was my 4th Conklin after getting two Victories and a Duragraph. All in all I think they're a nice "next step" in fountain pen collecting after dipping a toe in to the Hongdian/Jinhao/Moonman pool.
These JoWo nibs are nice and pretty reliable, though I abhore the big stub. The little stub in the Victory is one of my favourite nibs, but the #6 is absurd. So I replaced this one with an omniflex. Of course it's barely even a semi-flex, but I do actually really like it. It's everything that a fine nib is, with the option of laying down more ink for emphasis if you want.
The pen itself is beautiful. I got the Rosewood version because it had "rose gold" accents and I am a sucker for rose gold. It's actually a limited edition through Pen Boutique only and I didn't realise that at the time. Only 398 were made and they still haven't sold out as of June 2022. I had to get the omniflex nib from Goulet Pens, though. Definitely worth it to continue the rose gold aesthetic.
I originally inked it with Prussian Blue by Diamine, but then I got scented Rose ink from Jacques Herbin and it is like it was made for this pen. Rosewood, rose gold, and rose ink. I love it. I write my best friend letters with this pen and ink combo and she says she can still smell the rose when she opens the envelope.
The pen is huge, or at least it really feels huge. When compared to a Lamy Safari, it doesn't really look like it's all that much bigger, but I promise it feels large in the hand.

It's also quite hefty. Very front-heavy (towards the nib) which is actually quite a nice balance since posting it is not ideal. It can be posted, but it's not secure and I feel that it will eventually leave a mark around the wood on the barrel. Why oh why do pens exist that can't be posted? What am I supposed to do with the cap?
Writing Sample