Nahvalur Nautilus Mousseline Lilas Double Broad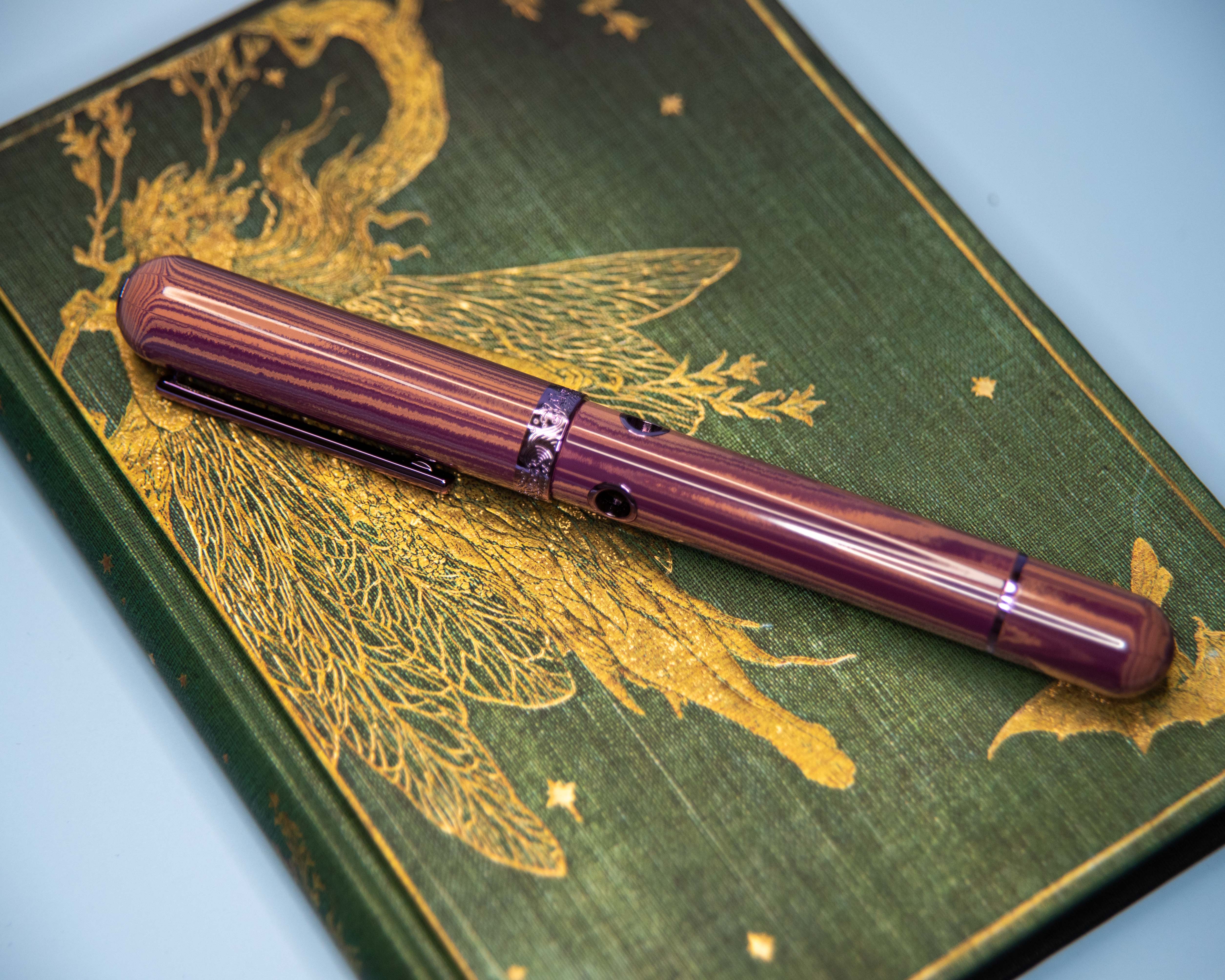 Overview
I loved this pen enough to pre-order it because it has that pink and purple that was promised to me in the Santini Italia pen. No beige, though. If only the two of them could have a baby:

But, I also got it because I have two other Nahvalur pens and I quite like them both. One is a Schuylkill, and the other is an original. I think their nibs are unique, and very smooth. So I was thrilled to try out something in a double broad.
Details
I really dig pens made from ebonite. They feel more substantial in the hand and they don't end up as slippery during long writing sessions. They also come with lovely striations most of the time, like old wood.
All of the accents on this pen are actually purple. They are not silver or gold, and it's not a trick of the light. Even the nib is purple. Side note: Why, if they changed their name from Narwhal to Nahvalur does this brand new pen still say "Narwhal" on the band? Did I miss something?
The ink portal on this pen is such a whimsical bit of fun, and it's actually one of the better indication windows I've seen on a pen, because the light comes through as you turn the pen to investigate.
It is a piston filler which I much prefer to the cartridge converter style because of the capacity and the smoothness. This mechanism is not as smooth as I'd like it to be, though. There are a few jumps as I'm drawing the ink in. But it does stop when it's fully screwed in, which I like better than the sort that click or continue turning.
The grip section and my general nemesis of pen ownership is just fine on this pen. It isn't fantastically smooth, but the flare that comes before the nib is not sharp and is flared enough that it forms to my finger rather than digging in to it.
My biggest dislike about the pen is that it cannot be posted. It didn't stop me from buying it, but I just never understand pens that can't be posted. Where am I supposed to put the cap when I'm laying in bed writing? Just hold it in my left hand the whole time? I don't understand. I still love it though.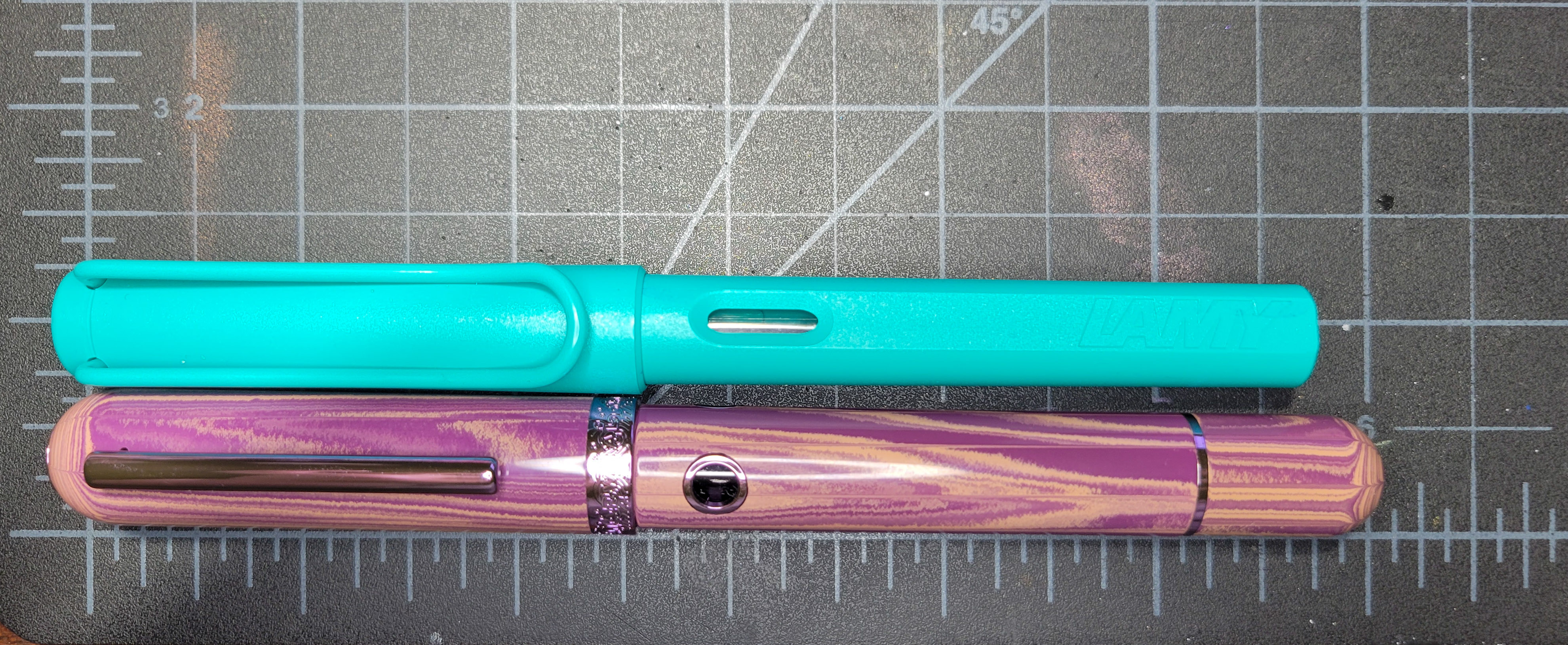 Writing
The nib is fantastic. It doesn't seem to be much more broad than my broad Original, but it is definitely thick and the feed keeps up just fine with Herbin Rouille d'Ancre. Nahvalur makes very smooth nibs in my experience. I now have a fine, broad, and double broad and they all glide so well that…well, that I keep buying them.
In-house nibs should always be supported!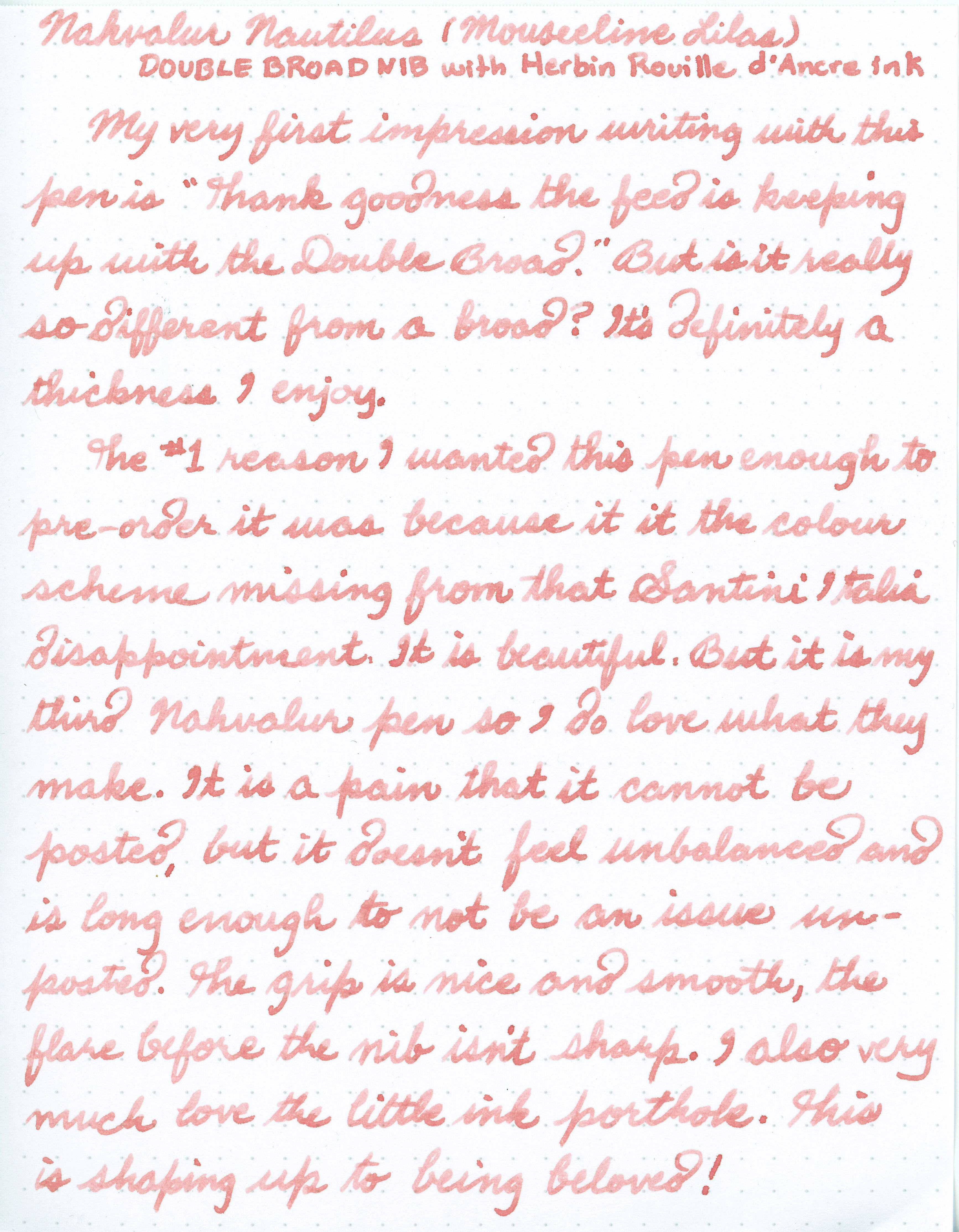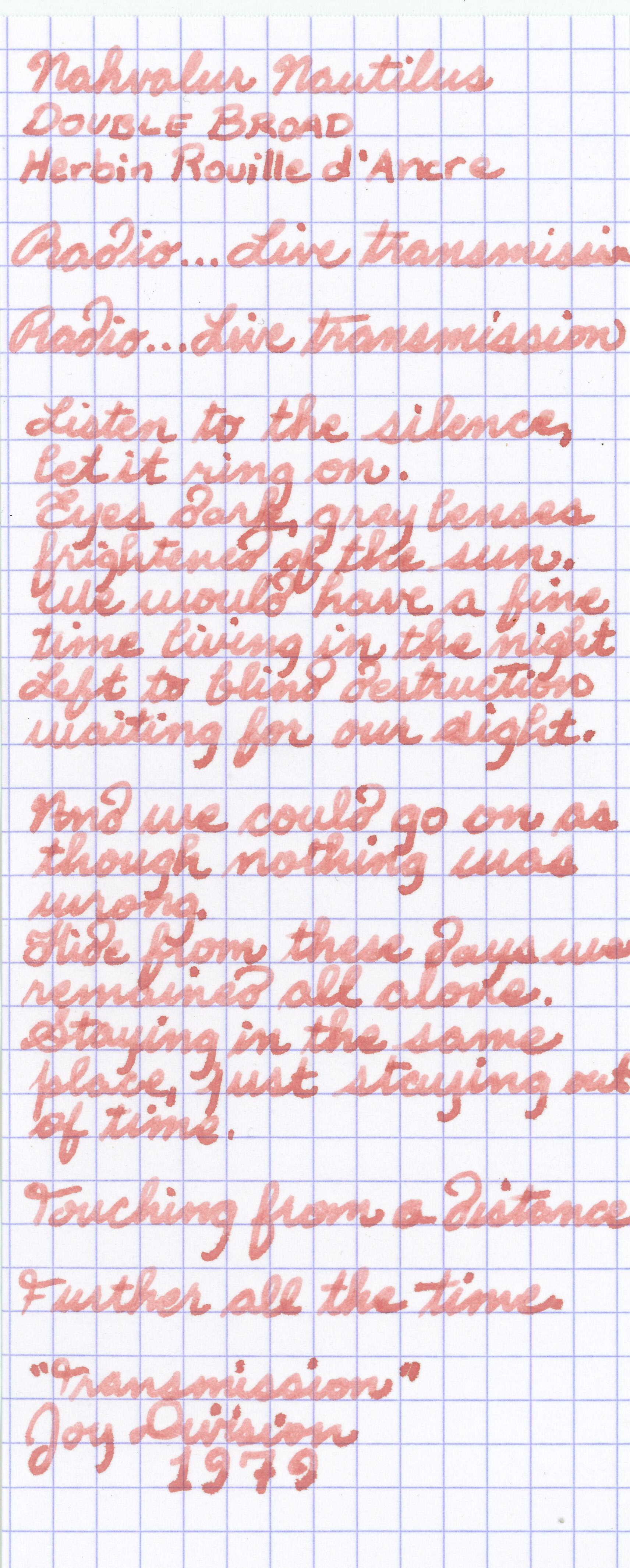 Conclusion
I'm glad I have a Nautilus, I've liked their style since they first were released. This colour and material drew me in. It writes no differently than their less expensive options, because the nib is the same steel. So there's no need to go big unless you have a good coupon (or you love the style). Start with one of their originals if you want to test out the nib experience.