Vegan Spiced Clarified Butter (inspired by Nit'ir Qibe)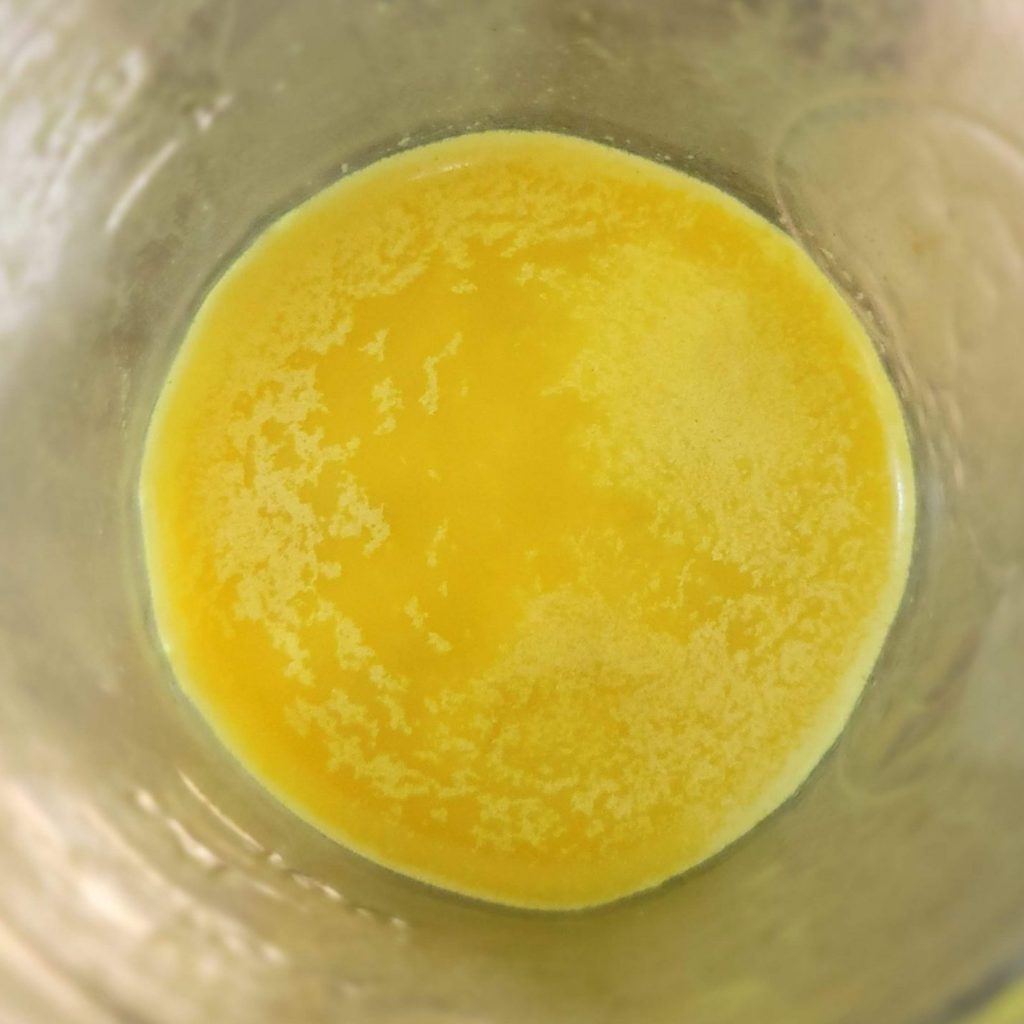 Ingredients
Vegan butter substitute (1/2 cup)

'plant butter' is what I used in these photos
needs to be a saturated fat (one the hardens at room temperature), so coconut oil is an option, though the taste will be altered, but I plan to try that next.

Onion (2 tablespoons chopped)
Garlic (2 teaspoons chopped)
Ginger (1 teaspoon minced)
Spices:

cinnamon (1 inch stick)
fenugreek seed (whole, 1/2 teaspoon)
cloves (2 whole)
cumin (whole, 1/2 teaspoon)
coriander (whole, 1/2 teaspoon)
turmeric (powder, 1/4 teaspoon)
cardamom (whole, green, 1 pod)

can be replaced with korerima

Spices that will make this Ethiopian (difficult to find, but not impossible)

korerima (5 whole)

this replaces the green cardamom above

beso bela (1/2 teaspoon)
koseret (1/2 teaspoon)

a nut cheese bag (regular cheesecloth will allow too much to fall through)
glass jar
tongs
Process
Melt plant butter over low heat.
Add onion, garlic, and ginger to pot. Stir for about thirty seconds.
Add spices to pot.
Allow to cook gently for 35 minutes, stirring occasionally.
Line glass jar with the nut cheese bag and slowly pour contents in to lined jar.
Slowly raise the bag out of the jar and use a pair of tongs to carefully squeeze the contents in to the jar. It is very hot butter, so do not use your hands.
Allow to cool to room temperature and refrigerate.
Notes
Can be used as a cooking oil; a spread for bread; or, my personal favourite, on a warm folded tortilla. Basically, it can be used as a butter substitute in all dishes that are not meant to be sweet (though my husband has put it on pancakes with huckleberry jam and said it was enjoyable so always keep an open mind to flavour).
I use this in my recipe for Tempeh We't.
🐮 Vegan and sesame free, as always.
🍽 Makes 1/2 cup
🇪🇹 🇮🇳 Inspired by Ethiopian Nit'ir Qibe, and Indian Ghee.