Esterbrook Estie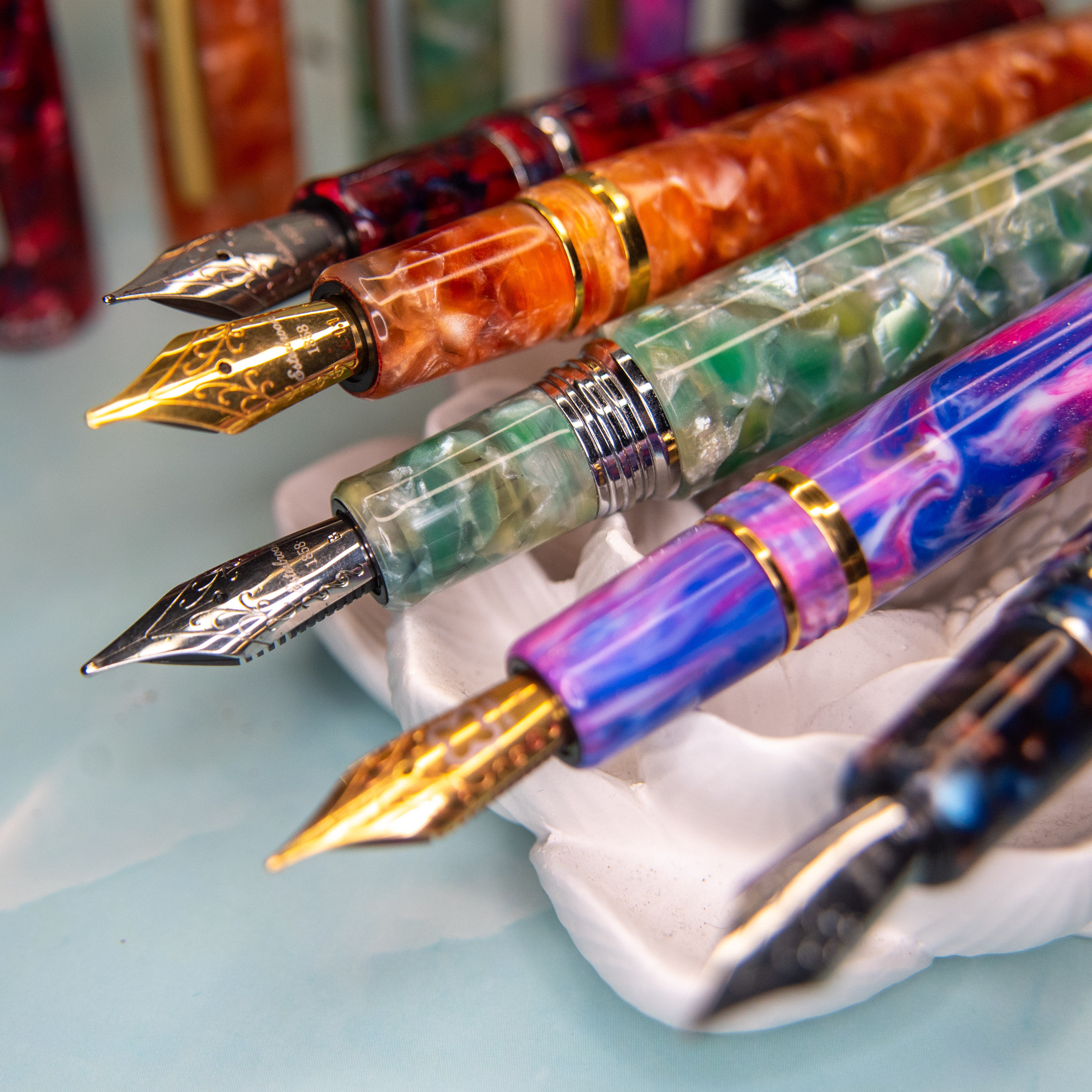 A Matter of Cost
I purchased my first Estie as a birthday gift for myself in 2022, almost exactly one year ago from when I will be posting this review. I got myself the Candy version because it's beautiful and I wanted to do something crazy for myself and buy an expensive pen (I did have a 25% off coupon, though, so there's that). The Candy version was a limited edition with some very cool pigment inside of it, and so it was nearly twice the price of a regular Estie.
Initially, the price was so concerning to me that I wrote this is my original and yet unpublished review:
Though a 'basic' Estie is about $150USD, the limited editions are twice the price. I asked myself why again and again. It does not have a gold nib, my friends. Whether or not you think a gold nib is worth anything, this one for sure does not have one. So why is this steel-nib pen so blasted expensive?

My best guesses are as follows:

The Esterbrook *name*
The blue in the candy version is a semi-recently discovered blue pigment called YInMn Blue (shout out to Mas Subramanian in Corvallis who discovered this inorganic blue. Go Oregon.) which, as with all new and cool things has more demand than supply.
The purposefully "limited" supply of a limited edition.
The 'hand turned' nature of the pen (I do not have any direct evidence of how 'hand' the turning is of these pens, but they do use creative artisans to purchase their blanks from according to their item descriptions.).
They are a quality writing instrument, and that must be paid for?
I've learnt a bit more about at least the "hand turned" nature of the pens. Esterbrook gets their limited edition blanks from various small companies that make up these beautifully done acrylic pen blanks and they turn them from there. Artists and artisans are always worth more money, I can see that. I won't argue, however, that the markups on fountain pens in general can be really off-putting.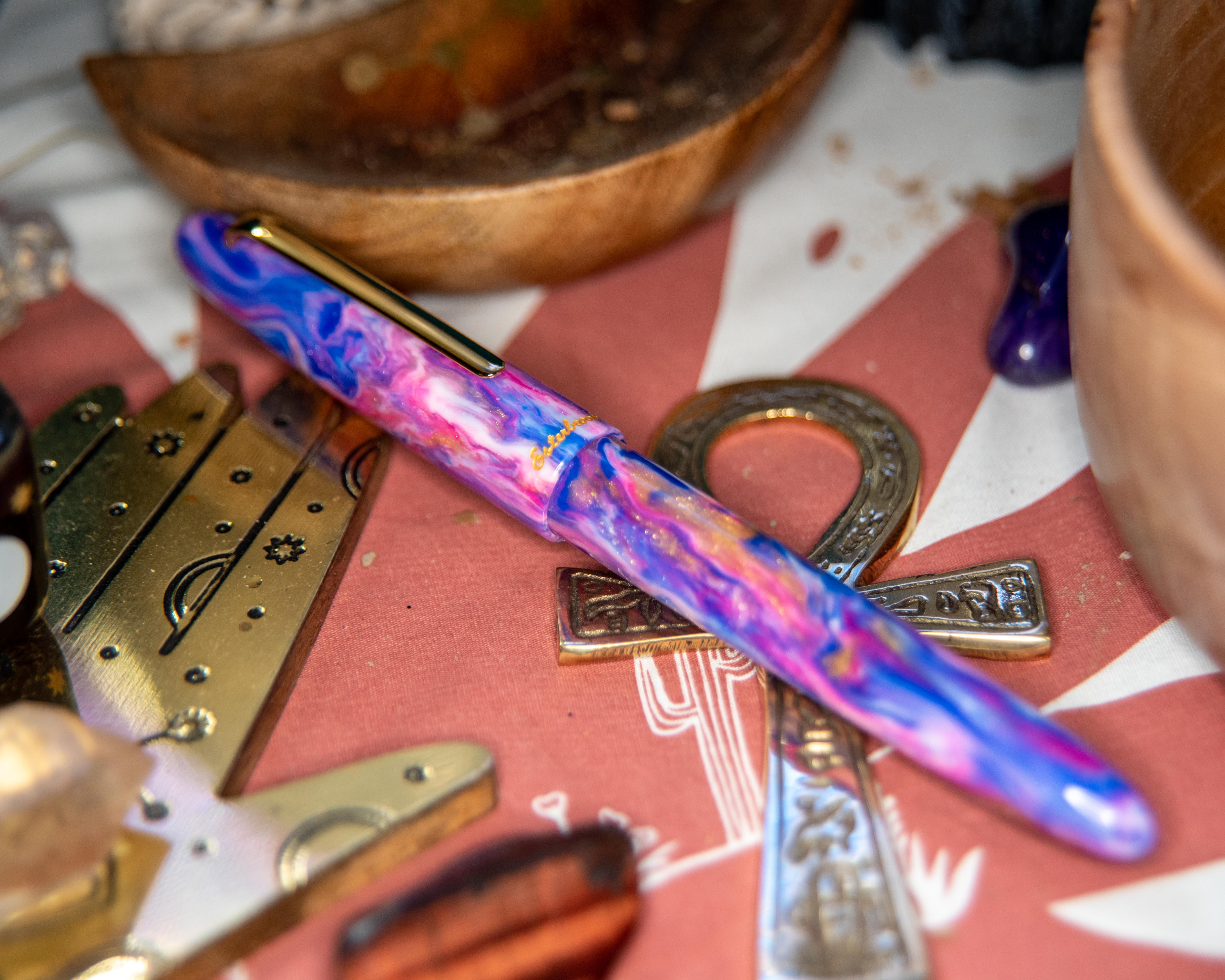 My First Estie
My Candy Estie came to me with an immediate problem. She would write wonderfully at the beginning of a writing session; but, by the end of the night, she was squeaking as though all the ink had run dry. When I started up writing the next day, we would repeat the problem. Great flow to start, awful pain to end.
The problem was some defect in the nib unit. That's fine, things happen, just replace it, right? Well, Esterbrook wanted me to send them my pen for an undisclosed amount of time for investigation and then send it back to me (at my cost?) fixed up. Atlas Stationers, on the other hand, just sent me a new nib unit and the problem was solved without having to be penless for months.
I was kind of put off by the experience, I won't lie, and I wrote in my review that it would probably be my final modern Esterbrook because what's so special about a #6 JoWo nib?
Well, it turns out that when the pen is actually working, it's one of the best.
Details
I have my Candy in my "always inked" tower, with Organics Studio Emily Dickinson ink inside (I love that ink so much). It never dries out, because of the sexy, springy, proprietary cushion cap; and it has something that I lust after in all pens: a smooth, bumpless grip section. Not to mention, I often stop and look at it under my light due to how beautiful it is. The ultra gloss of Esterbrooks really gets me, I think it's lovely.
Everything on the pen is smooth, soft, and comfortable. The weight of it is just perfect: both posted and unposted. I love this pen, full stop.
So I buy them whenever I find one at less than 50% of the original price, because I can use these pens for days on end.
Candy
Scarlet
Nouveau Bleu
This one I fitted with a scribe nib.
Petrified Forest
Seaglass OS
This one is an Oversized version. It does, however, use the same nib size. The bigger pen is good for big hands, and I like the heft of it myself. Other than size, it is identical to the other Esties.
Nibs
I also have a few replacement nibs I picked up used or on sale, but I have yet to use a fine or extra fine in any of these pens. I did use an EF Flex nib and it is awful. There is no real flex, and the tines tend to separate for me through normal, unflexed usage–not in a good way, in a "wow there is a space between the tines now and the pen won't write" way. The JoWo "flex" nibs (I had one on an Opus 88 and it was also awful) are worse than their omniflex nibs. Shame.
I have one "custom" nib on the Nouveau Bleu version. It is a scribe nib, so an architect grind. Compared to the FPR Architect I have, this one is much sharper, so there is more distinction between directional strokes. I find that the sharpness pushes my writing in to an upright form when I use it with a Latin or Cyrillic script. I would be interested in trying the journaller. Needlepoint doesn't do it for me, though.
I also did get the adapter one can use in order to put an vintage Esterbrook nib on a modern Estie body. I have just gotten a 9048 nib, so I'll definitely be using that in there to see how she fares. I'm sure it'll be fantastic. Review to come.
Points of Contention
So, I have a total of five Esterbrook Estie pens now, and three of them have been sent to me with problems. The Candy had the defective nib; the Petrified Forest has a golden ring around the body that wobbles when I write; and the Nouveau Bleu's cushion cap is fixed too deeply in to the cap so it does not "spring" as the others do. Others were used and in fab condition when I got them.
I didn't bother saying anything about the Nouveau Bleu's cap because so long as it still keeps the nib wet, I don't care; and it seems to be doing just fine. But the Petrified Forest issue I contacted the place I got the pen from, who wrote Esterbrook who said they'd write me back and they never did. A month later, I asked what's up and they did write me back asking what was wrong. I told them, sent a video and all that, and have not heard back in almost 2 months. I have just accepted that this is my wobbly pen, now.
The point of writing this out is because, 1. You never really know what you'll get when you buy an Estie; and 2. Nothing is an easy fix, even when it's a defect on their end.
Upsetting? Yeah, kind of. But I still love the pens so much, so I guess it just doesn't matter that much to me in the end that sometimes you get wobbly bits and unspringy caps. I guess since I get them on a discount, I deserve discounted products?
Conclusion
Despite anything and everything, I'm head over heels in love with Esterbrooks both modern and vintage. I thought, after the Candy, that I'd just stick to the vintage Js I get at estate sales, but the joy of using the Estie is so satisfying that I always have a few inked up. And if another colour comes up that I fancy (and I can get it on a steep discount), I'll probably be right there.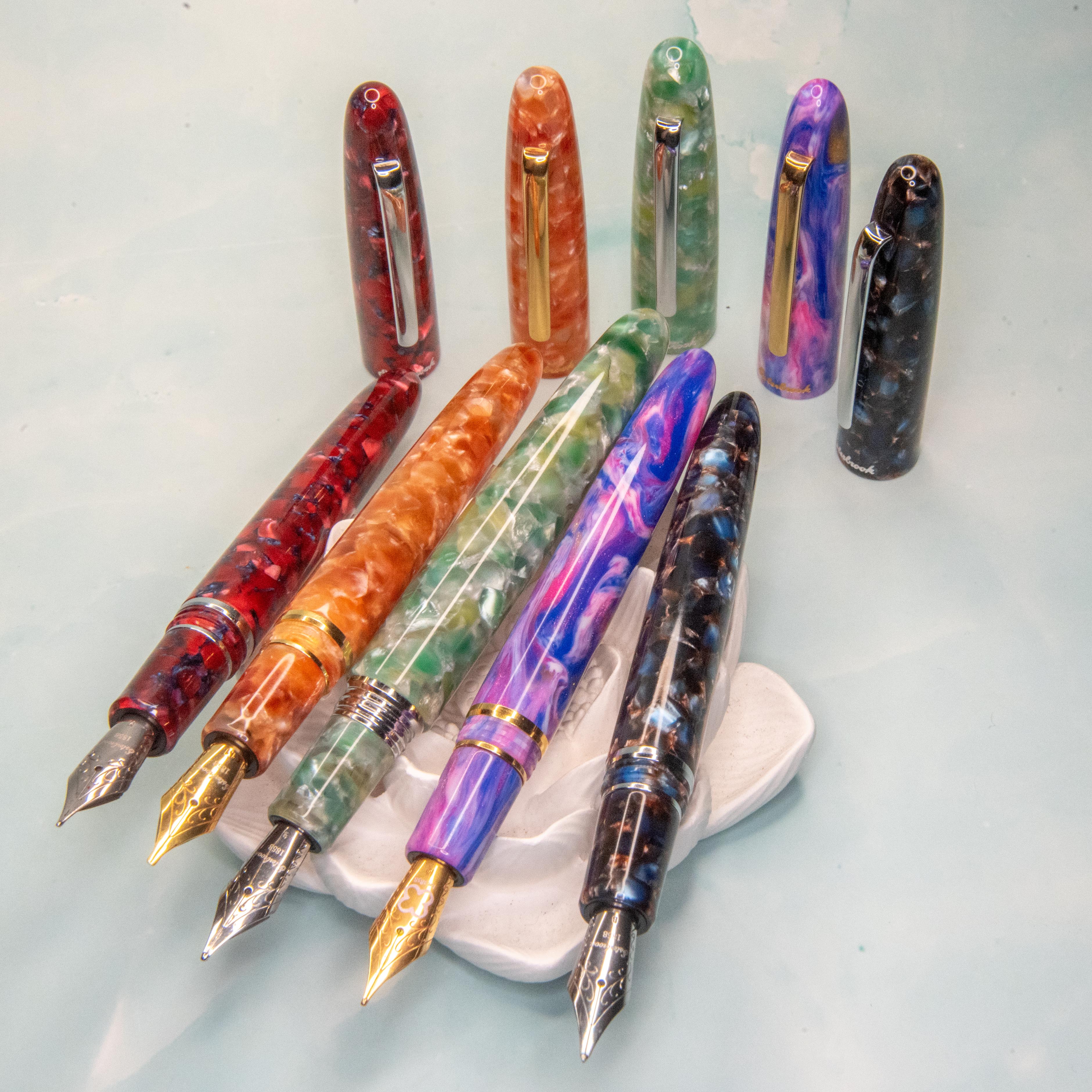 I have also tried the Esterbrook JR and the Camden which I adore just as much as the Esties. Reviews of those to come someday.